First runs today with the new turbo.
There was no vht down so traction was non existant untill a bit into second (as you can see with the vids, and the piss poor 6 foot time) Only did 3 runs because the woman was too cold
12.41 @ 119.84 mph, 2.14 60'
So with a bit more practice and some traction (and a not broken foot would be handy also) it should do a lazy mid 11.
reasonably happy with that, i would have liked an 11 today but yeah never mind.
just waiting for the vid to upload, then ill put the time slip up.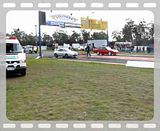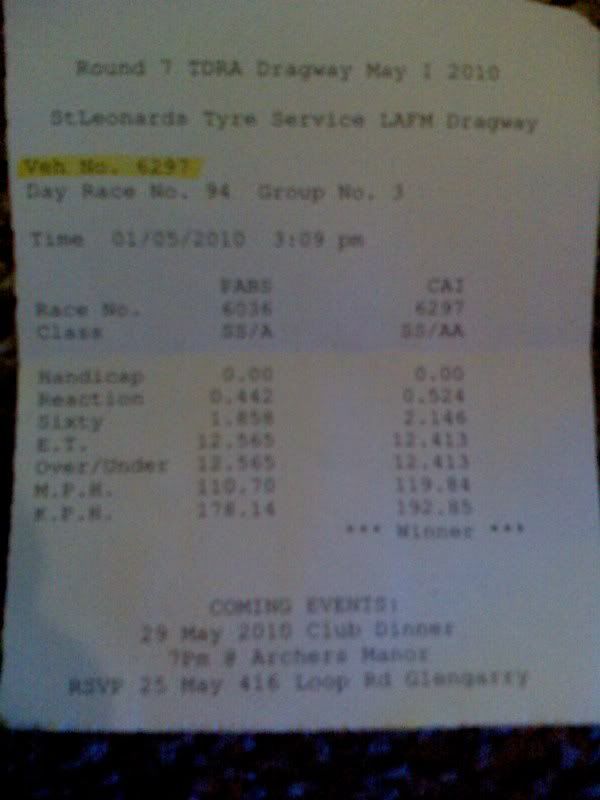 01. 12.413@119.84MPH 2.146 60' :: Cuts 6th Gen ST205 Group A Rallye 3S-GTE
02. 12.693@110.56MPH 1.845 60' :: 71MEH :: 5th Gen ST185 3S-GTE
03. 12.878@114.02MPH 2.170 60' :: 51EKA :: 7th Gen ZZT231 2ZZ-GE
04. 13.525@99.44MPH 1.965 60' :: Clint :: 6th Gen ST205 3S-GTE
05. 13.693@99.14MPH 1.869 60' :: -==L=a=N=c=E==- :: 5th Gen ST185 3S-GTE
06. 13.757@99.55MPH 1.990 60' :: Qazza :: 6th Gen ST205 3S-GTE
07. 13.947@102.13MPH 2.1703 60' :: KBOOST :: 5th Gen ST185 3S-GTE
08. 13.990@96.05MPH 1.953 60' :: GriZZly :: 5th Gen ST185 3SGTE
09. 14.056@96.46MPH 1.928 60' :: Clint :: 5th Gen ST185 3S-GTE
10. 14.083@98.73MPH 2.313 60' :: GT42NV :: 5th Gen ST185 3S-GTE
11. 14.139@99.19MPH x.xxx 60' :: 2000ZR :: 7th Gen ZZT231 2ZZ-GE
12. 14.230@107.78MPH 2.635 60' :: Nu1 :: 4th Gen ST162 3S-GTE
13. 14.351@94.53MPH 1.890 60' :: Jinxie :: 5th Gen ST185 3S-GTE
14. 14.662@97.66MPH 2.386 60' :: vyets :: 7th Gen ZZT231 2ZZ-GE
15. 14.841@95.74MPH, 2.350 60' :: GeneSPIDA :: 1st Gen TA22 2TGTEU
16. 14.936@92.68MPH 2.300 60' :: AnthyGTS ::7th Gen ZZT231 2ZZ-GE
17. 14.956@94.32MPH 2.366 60' :: -[ez]- :: 7th Gen ZZT231 2ZZ-GE
18. 15.194@92.98MPH 2.392 60' :: BlkZR :: 7th Gen ZZT231 2ZZ-GE
19. 15.567@92.59MPH 2.551 60' :: celicajim :: 7th Gen ZZT231 2ZZ-GE
20. 15.611@89.25mph 2.425 60' :: SlikSX :: 4th Gen ST162 3SGE Gen 3
21. 15.799@90.18MPH 2.521 60' :: 3S-GTE_Man :: 4th Gen ST162 3S-GTE
22. 16.267@84.26mph 2.510 60' :: WAYNO :: 4th Gen ST162 3SGE
23. 16.695@80.72MPH 2.394 60' :: DJCouGaR :: 4th Gen ST162 3S-GE
24. 16.702@86.17MPH 2.971 60' :: DunkyMonkey :: 5th Gen ST184 3S-GE
24. 16.712@81.66MPH 2.709 60' :: WAYNO :: 5th Gen ST184 5S-FE